Helping US Family Health Plan Keep Our Provider Directory Up to Date
Here's what providers need to know to keep their directory information up to date.
Provider directories can be inaccurate and limited. To help members make informed decisions, health plans are now making directories more accurate and comprehensive. We're doing this by providing:
A single portal that lets providers maintain timely, accurate information
Consistent data that lets all health plans access the same information
A way to meet regulatory requirements for the Massachusetts Division of Insurance and for the Centers for Medicare and Medicaid
Instead of sending information to each health plan separately, health care providers can now submit and update their information in one portal. This new process:
Improves the experience of members who rely on directories to select and contact providers
Helps providers to update their information with multiple health plans in a streamlined way
Supports timely, efficient directory updates
How is "DirectAssure" related to this program?
CAQH built a directory module called "DirectAssure" within their existing ProView portal.
What should providers do?
Providers are asked to update and confirm their directory data in the CAQH directory solution within ProView. This ensures that members have accurate, current information when accessing providers. Providers are expected to:
Learn how the program works through communications from CAQH and health plans
When a provider is added to this process, review, correct, and update information in ProView
Confirm that the information is correct by attesting to its accuracy
Keep information current by updating directory data as changes take place
Revalidate data every 90 days from the last attestation period to indicate that the data is still current
Go to http://www.hcasma.org/Directory.htm for a training video, announcements, and directory information
How does the program work?
Health plans build interoperability with CAQH, allowing them to upload existing demographic information
As each health plan builds interoperability, it will work with its provider organizations and add those providers into the DirectAssure process through ProView
As providers are added, they will be notified by CAQH to enter ProView as they do for credentialing
Once in ProView, the provider will be prompted to review, add, correct, and validate their information
Once validated, the data can be accessed by the health plans that are actively using the system
Once all health plans have fully phased in use of the system, the program will become the single source for demographic information for health plan provider directories
What is the directory data-upload process to CAQH and does it affect providers?
Health plans send provider practice location directory data to DirectAssure every month. DirectAssure compares the health plan practice location data with provider self-attested data that already exists within CAQH ProView.
Practice locations that have not been previously attested to, which are new to a provider's profile, are presented to the provider when they log in to CAQH ProView. Providers are then prompted for a decision regarding each practice location.
Locations that are "Accepted" require additional data entry to be completed. "Rejected" locations will appear in the practice locations table as an "Archived and Rejected Location" and can be "Restored." If a provider selects "I don't know," they will be prompted to answer this question the next time they login. There are no updates to existing data if a response is "I don't know."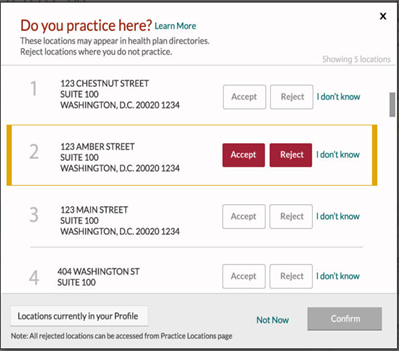 What information are providers asked to review and update?
Information that providers will be asked to review and update includes:
Provider office locations, addresses, and phone numbers
Institutional affiliations
Specialty
Open or closed panel status
Languages spoken
Accommodations for disabilities
Accessibility information for each practice location
Confirmation of completion of cultural competency training
Behavioral health clinical areas of interest
What information do providers need to send directly to each health plan?
Any time providers add or change an affiliation, contractual documents need to be sent directly to each health plan with whom the provider has a relationship
An HCAS enrollment form for a new provider joining a health plan
W9 forms
Other forms related to contractual or billing information
How often do providers need to confirm and/or update their directory information?
Providers must update their directory information any time there is a change, i.e., phone number, address, panel status. Providers are also asked to confirm their directory information at least every 90 days to confirm that the data is still accurate. All required fields must be completed or updated before attestation.
How will providers receive notifications to update and confirm directory information?
Notifications will be sent to your primary method of contact email address listed in CAQH ProView. If you have a designated contact, such as a credentialing specialist or practice manager, listed as your primary email, please make that this person is aware of the importance of maintaining provider directory data updates within CAQH. Please be sure to update and verify that you have the correct contact information listed so that you can receive these important notifications.
If I don't have all the information available to complete the session, can I still attest?
All required fields must be completed prior to attestation. It is possible to save your data entries and complete your attestation the next time you log in. Until attestation of the application is complete in ProView, it will not be communicated to the health plans and they will not be able to access the information.
What should I do if I see two practice locations for the same address?
If you see more than one practice location listed for the same address, it may indicate a duplicate record. Multiple variations of a practice location may appear in a provider's profile when similar addresses are entered with a variance in Address Line 2.
USPS Standardization will treat the variance in Address Line 2 as a separate physical practice location (i.e., suite number variance, floor number, department number, etc.). Please review the record for inconsistencies.
If the addresses are the same, we recommend that providers archive one of the locations using the reason code "This is a duplicate of an existing location" (see screen shot below) so that the provider does not have two of the same locations on file:
Do I need to enter a suite number for practice addresses?
Entering and maintaining accurate practice address information is essential. CMS has informed health plans that a valid suite number is required for a location address to meet federal requirements. All provider locations with office suites should enter this information in CAQH. Address2/Suite numbers are entered or edited under the practice location section.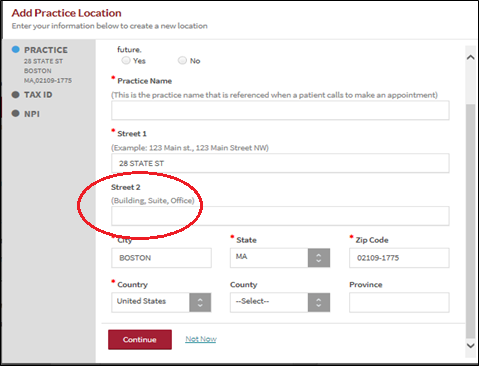 Some providers who have multiple affiliations have had difficulty sharing usernames and passwords for provider record access. How is CAQH addressing this?
CAQH is working to develop the ability for ProView to allow multiple users to have secured access to one provider record. HCAS and health plans will communicate additional information as it becomes available.
How will behavioral health (BH) providers be affected?
Behavioral health (BH) providers will be included in this initiative for those health plans that include them in their networks. BH providers will be asked to identify specific conditions that they treat and by age limitation as required by state regulatory requirements. This is directory information only. Any contract information must continue to be sent to the health plan.
How do I update my directory information in CAQH ProView?
Once you have been added to the directory program by any of the health plans:
Log in to CAQH ProView by entering your username and password.
On the Attestation page, follow these three steps:
Click the link to view your Provider Directory Snapshot. If any data is incorrect, click X (in the upper right-hand corner) to close the snapshot and make changes within your CAQH ProView profile.
Click Verify Review once you have made updates or if no changes are needed.
Indicate that you have reviewed your Provider Directory Snapshot and then click Attest.
The Attestation Complete screen will appear, and you will receive a confirmation email.
If you need additional information on how to update your provider directory information within CAQH ProView, please review the detailed Provider Directory Data Confirmation Initiative Reference Guide.
What tools and resources are available if I need help?
Visit these websites for the latest training videos, announcements, and directory information:
Providers or practice managers who need help using ProView may use the Virtual Assistant that is part of the Chat Support functionality or contact the CAQH helpdesk at:
Live Chat: Log in to your account here for providers or here for practice managers and click on the blue chat icon at the bottom of the page.
Phone: 1-888-599-1771